It's time to reveal the Easter ensemble! Here were the picks again!
Number 1:
Or...number 2??
And the winner is...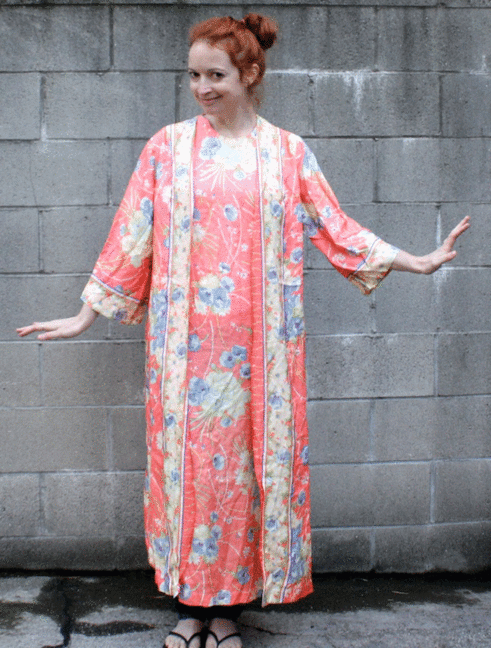 The majority of you guys went with the first pick, however there were so many little rust markings that the whole dress was going to have to be dyed a darker color, totally taking away from the Easter-y shade of the lavender. In order not to disappoint, I went with the backup piece that was going to be pastel=coral perfection! That lavender dress will be coming back soon, just probably a bit darker than what it looks like now!
I started by cutting out that inner, attached layer that was connected on one side of the muumuu only!! I loved that there was literally one arm hole on the right side of the piece while the other side was fully connected to the muumuu on the left.
I was left with what looked like a robe.
Now, I loved that many of you mentioned doing a cover-up, however I ended up going the dress route.  I ironed the piece and pressed the front of each edge of the robe down, following the purple and white lines near the center.
After pressing the front sides down, I pinned each edge together from the bottom of the piece up to around the bust area.
From where I removed the center panel, I re-pinned the seam that I opened to remove it...
...and then sewed the front of the piece and the side seam down.
After everything was stitched together, I turned the dress inside out, shortened it, hemmed the new bottom, and then took it in to give it a bit more shape.
Finally, I cinched the area right above my belly button with a vintage brooch to give a little bit of texture and to create a pleat that worked really nicely with the white floral stripe down the center.
I paired it with some vintage Candie's by day, and then changed into a pair of boots with a cardigan as it got later...
It feels super spring-y and was just the perfect thing to wear while celebrating Easter this year!
I began by watching the NCAA tourney with girlfriends...
...then headed to another Easter get together with some themed cupcakes that I baked.  See, I'm not a fan of Peeps (just don't love the marshmallow) however they make for eggs-cellent decorations!
There were these cupcake options as well...
...which I called my Easter egg or Khaleesi's dragon egg topped treats, depending on how you look at it.  (Game of Thrones premiered Easter night, so I had to show some love.  I'm obsessed with GOT so you might be seeing more fun themed outfits/snacks over the next few months while it's on.)