The weekend is complete and I spent most of it learning all about the in's & out's of Photoshop!!  (I also finished the 4th season of Breaking Bad - Holy/Wowsa/OMG/Heisenberg - just in time for the season premiere!!)
The amazing and adorable Bri & Angela of Blogshop taught the most ridiculously compact seminar where I actually learned (and remembered!) so many über cool tricks.  It's like Photoshop was compressed into a nifty zip file this weekend and it's all been downloaded into my brain!
So no weekend brunching with pals for me, but the class still served the necessary brunchy bevvies...mimosas, check!  Coffee, check!
I planned to wear something cool and breezy for the class and went to this cotton candy colored frock that I found for a buck.
It feels like an 80s secretary dress complete with the big white button up top, the shiny squares in the fabric, and the pads!!  Oh those pads!!
First off, we're getting rid of those puppies because this is going to become my dress for Saturday School!  Molly Ringwald wore blingy studs to her Saturday detention and I've got my dress.  Two peas in a pod, preparing fashionably for weekend school.
When you find vintage pieces on the cheap, there's always a chance of some sort of damage.  It's super smart to scour your garments before buying, just to really weed the workable pieces from those who are beyond repair.  This piece had some sort of  blackish schmutz on the sleeve...
...but that didn't deter my purchase.  Quick fix - cut the sleeves off and it's like the mark was never there!  I wanted the sleeves to be more of a fluttery cap style so I trimmed each one on a diagonal and folded/pinned the raw edges to prep for sewing.
I also needed a length adjustment stat!!  I cut about eight inches from the bottom to make this a mini!
I liked the fabric and the pink and white mix put I wanted to add a little extra somethin' somethin'!
(PS, the fabric totally reminds me of Mother's Animal Cookies, right?  I learned about these first week of school, Freshman year, as my East Coast eyes had never seen the sprinkled glory. Big mistake, big, huge!)
For that extra bit of love, I took lace pieces I scored in the garment district and pinned them along the skirt's edge. I think this is just the stuff to add a bit more femininity!!
With the hem and sleeves pinned, I began to sew everything in place.
New dress done!!
I paired my new piece with a lace Hanky Panky tank (sample sale score!) and some vintage baubles - I needed the top of the dress as open as possible to help curb some of the summer sweats I was having!!
I had fun in this after class...
...and fun in this during class.  Learned how to make a legit gif which shows this dress off and my sweet dancing skills.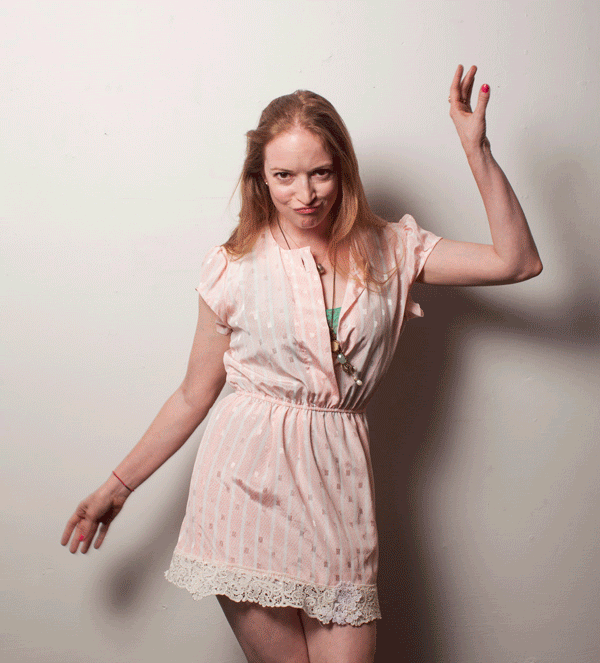 I was humming (in my head) my fave Fitz & The Tantrums song as the photos were being shot.  Join in the head humming and take a minute for your own little solo dance party.  Nothing says hello to a brand new week than a little spontaneous dancing!
Hope you all had a simply blissful weekend.